Thursday, May 31, 2012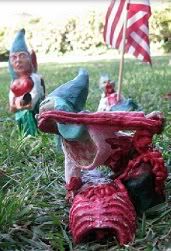 The Plants Vs. Zombies games has been one of the most successful games in the past few years and if you want to recapture that fun you've have with the game where you had zombies on your lawn then the Zombie Gnomes have their rightful place in your backyard.
But as opposed to the brains-loving zombies of the timeless PopCap game, the Zombie Gnomes may not be too friendly to the eyes. In fact, you can't really blame your daughter's friend when they start screaming the moment they enter your yard. The Zombie Gnomes are gory and they are bound to elicit a scream or two.
The Zombie Gnomes are a product of the creative efforts of California-based artists Chris Stever and Jane DeRosa. But they aren't all zombies, the collection provides a wide variety of gnomes — from zombies to survivors. The price vary from $21 to $55, with the lower prices for the single garden gnomes, and the upper range for Stever and Jane's masterpieces like Bye Bye Birdie, a poor pink lawn flamingo being chomped by a troika of zombie garden gnomes. There are also Zombie Gnome body parts that are available for around $10, just in case you want spare hands and heads lying around your backyard.
Other entertaining gadgets and items are available at Gadgetepoint.
Tags:
Chris Stever
,
Jane DeRosa
,
Zombie Garden Gnome
,
zombie gnome