Friday, June 1, 2012
Kids nowadays wouldn't even recognise the design of this coffee table, they'll just see it as an enlarged version of something that their parents used to have. They see smaller versions of it down in their parent's basement. Yes, it's a casette tape. It was something so common just a few years ago, but now shouts, "vintage."
There's a similar product, for those who are feeling a little nostalgic for some two-dimensional games of the yesteryears. This one is for those who are missing the old days of making mix tapes and flipping the casette after playing five songs or so or when rewinding is not as easy as a single click or press.
It's called the Mixtabe Table from Jeff Skierka Designs. The casette mix tape replica is a 12 is to 1 scaled replica of an item that used to be a staple in every household back in the 90's.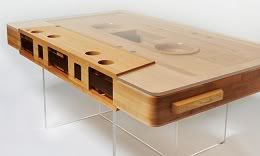 The prototype coffee table is made from maple, walnut, and walnut and measure about 2,5 feet by 4 feet. Later versions may come in different materials. Both plywood and handmade hardwood versions will be available for this audiophile's centerpiece.
So, here's the kicker: it's reversible (side A and side B).
Gadgetepoint has lots of cool and neat stuff to trigger a sense of nostalgia.
Tags:
Casette
,
Mix Tape
,
Mix Tape Table