Thursday, June 7, 2012
Here at Gadgetepoint, we present the coolest gadgets. But we also present a few things that only a few people will find cool.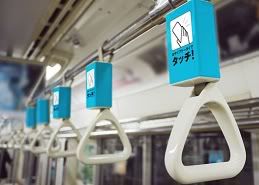 The Strappy is a plastic device that sits on top of the strap or the things that dangle on the rails and people hold them so that they won't fall to the people on their sides. As it is in many countries, they have a space where advertisers can place a sheet to promote their products. The Strappy is like those ads, but you really need to want to see the ads first.
Unlike the conventional methods where sheets are placed inside plastic cases to advertise, with the Strappy you need to pull out your smartphone and hover it near the Strappy and your phone's internet browser will be directed to the website of a random company.
But in the tight and hectic conditions of a train ride, who would actually reach to their pockets and tap it on Strappy. Unless, the advertisement is something really worth seeing like something raunchy or racy, the chance of people going out of there way to view an advertisement, which is already everywhere, by the way, is highly unlikely.
Well, at least the Strappy will be able to transmit numerous advertisements unlike the conventional method which only shows one.
But with the Strappy, few people will see the many advertisements that it can carry. That's lonely, come to think of it..
Tags:
advertisement
,
Strappy
,
Train