Sunday, July 15, 2012
You're about to attend a business meeting and you have to do your role in the barbecue at the party in your best friend, unfortunately, you don't have time to go back to your house and pick up your barbecue set. in that case, the Darwin BBQ was made specifically for you on this day. The other executives wouldn't even know what you're planning at the end of the day.
It looks like a regular black briefcase except that its made of steel, of course you wouldn't want your grill to be part of what you're grilling. The carrying strap allows for a greater portability to the Darwin BBQ. Open the portable grill set and place the triangular grill and removable ash pan included in the set. The grill is enough to grill three or four medium-sized hamburger patties at the same time.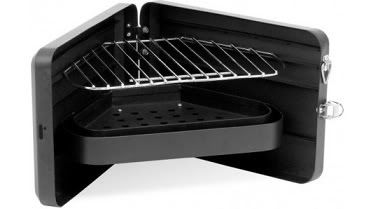 But of course there are other options, your portable grill does not necessarily have to look like a briefcase, there are other options that can do the same job. But why not? Shoot two birds with one stone, aside from grilling, you can also keep them guessing as to what your carrying in your steel briefcase, plus it looks awfully classy.
Form and function? Gadgetepoint provides both with its great selection.
Tags:
Darwin BBQ